Welcome
Welcome to our school website which showcases life and learning at St Brigid's, Altamuskin. We hope you will regularly visit our website to keep you up to date with events and give you a sense of what life is like at St. Brigid's.
Should you wish to find out more about the school, please feel free to make an appointment and we would be delighted to show you around!
Sinéad Gormley
Principal
Join us via YouTube for the premiere of "A King Is Born" and "The Grinch who Stole Christmas" a feature length film by the children of @stbrigidsaltamuskin . It will be available to watch at 7pm this evening, Wednesday 22nd December. This link can be shared with others all over the world to enjoy again and again and again !
*Emergency School Contact (COVID-19) during term time *
In the event that your child, who is a pupil at St. Brigid's, should test positive for COVID-19, please email info@stbrigidsps.altamuskin.ni.sch.uk marking your email *'URGENT COVID-19'* and the Principal will make contact with you.
Take care everyone.
Videos
St. Patrick's Day Celebrations continued
World Book Week activities
P3/4 The Elves are on strike
Latest Photographs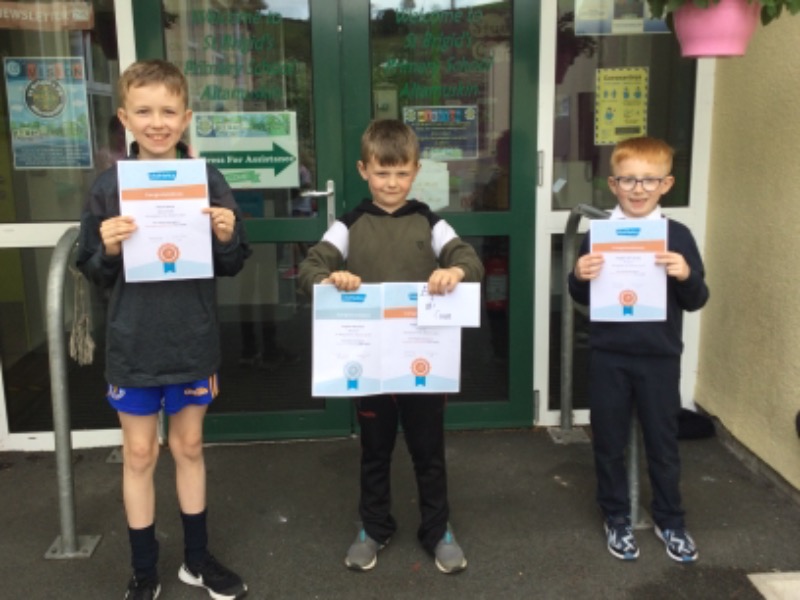 Guestbook
Bronagh Fleming - 11th Feb 2020
St Brigid's Altamuskin is the perfect environment for children to learn in. It's a small school with such care and attention for each child to help them prosper and grow.My children come home with such lovely comments about their day. It's a pleasure sending them to this wonderful school. Thankyou
David Mullin - 9th Feb 2020
Amazing little school, I loved it as a past pupil and my 2 eldest children have thrived in it. All staff give the children superb opportunities and level of teaching is top drawer. A wonderful place for a child to develop
Teresa Mccann - 9th Feb 2020
Fantastic, brilliant school. It's always a good sign when my boys tell me they are looking forward to school tomorrow! Thank you to all the staff that go over and beyond to make the school a wonderful, happy and inviting place to be.
Michaela Treanor - 9th Feb 2020
A wonderful school with such a warm and welcoming atmosphere. I am lucky to have the opportunity to liaise with the members of St. Brgid's staff and share good practice during cluster meetings. The hard work from both staff and pupils alike is evident in the creative and artistic displays along corridors and in classrooms. Looking forward to another visit soon.
Mark McCullagh - 9th Feb 2020
What a wonderful little gem this school is tucked away in the hills of Tyrone. It's always a treat to visit St Brigid's and I look forward to returning in the near future. The children are the best advertisement for any school and this is certainly the case in Altamuskin. Such a warm atmosphere. Keep up the great work guys!
Joanne McGread - 9th Feb 2020
I arrived late at St Brigid's as part of the Numeracy Cluster group and was immediately welcomed by a senior pupil who politely asked if he could help me. He showed me to the meeting room and when I
expressed my thanks to him he replied "You're very
welcome." What an excellent
introduction to a wonderful school! I was so impressed
with such good manners.

Lorraine Devlin - 9th Feb 2020
I recently visited St Brigids PS, Altamuskin for a Numeracy Cluster meeting! It was a very welcoming friendly school!
Catriona McElholm - 8th Feb 2020
Myself and my colleague recently attended a Maths course hosted by Mrs Gormley in Altamuskin. 'Maths Problem-solving' was delivered by Daniel Copley and was very informative and relevant! The hospitality in the school was first class and Mrs Gormley had everything meticulously planned for the day! Her friendly staff made us feel so welcome! Such a great school!
C McElholm, St Teresa's PS
Tracy Aiken - 8th Feb 2020
Great community orientated school. As a teacher from our Shared Education cluster I have always been made feel welcome.
Kate Corrigan - 8th Feb 2020
A great school .. warm welcoming and at the heart of the community with dedicated staff and parents working together for the best of the children . Great leadership from Mrs Gormley, always willing to work with other schools and professionals. Fantastic experiences across all areas of the curriculum are offered to the children. Keep up the great work as a vital part of the community and Errigal Ciaran parish as a whole .
Ryan Cassidy - 8th Feb 2020
A fantastic school which I was lucky enough to teach in from September to January this year. Brilliant staff and children who create an extremely welcoming environment. The school gives children fantastic opportunities inside and outside the classroom with a great focus placed on music and sport. I look forward to calling in again when I'm home from Qatar. Keep up the excellent work everyone!
St. Brigid's Primary School, 114 Altamuskin Road, Sixmilecross, Co Tyrone BT79 9JA | Phone: 028 807 58386